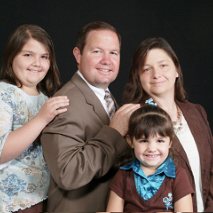 Joel Sloan's testimony
I was born in Ft. Worth TX at Harris Hospital in 1972.   When I was a few months old, my parents took me, along with my 2 year old brother to Mexico.  My parents began their missionary work that year.  They went as Independent Baptist missionaries.
My father was a medical doctor and left that field of service to move to the mission field of Mexico.   My mother was raised on the mission field as she moved there with her parents as a teenager.
I was saved at the age of 6 years old, May, 1979.   I preached my first sermon in San Cristobal de las Casas Chiapas, Mexico at the age of 14.  I preached in youth meeting.
At the age of 18 I graduated from high school and then came to the U.S. for Bible college in Oklahoma City, OK.    A few years later I surrendered my life to work with Hispanics in the U.S.    I
I married Margaret Walts in 1997,  worked in a Spanish- speaking church in Los Angeles for a few years; and then moved to El Paso, TX to serve the Lord and the Hispanic community in the year 2000.  We have been in the El Paso, TX/ Juarez, Mexico area since then.
I praise the Lord for his direction in my life and the people he has put in my life throughout the years.  Praise the Lord for his goodness.
Please pray for my family Margaret and my two daughters, Desiree, and Alyssa.   The Lord has been very good to us.