Here is Aaron's testimony: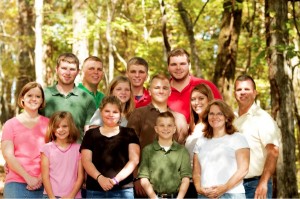 My name is Aaron Hoot and I was born June 15, 1961 in Corpus Christi, TX.  I grew up in a small Texas town called Orange Grove.  My father owned a construction company and we were never lacking anything material wise.  I had three brothers and we were spoiled.  Mom and Dad gave us everything we asked for.  Since his job took him away from home 5 days a week, he was only home on the weekends.  We spent most of our time with him on the ranch or watching football on tv.   We never went to church much and when we did, it was just my little brother and I.  Usually we would get told that we couldn't come back for a while because all we did was play.  At the age of 18, I wanted to date a girl and her mother told me that the only way I could date her daughter was to go to church with them.  I went and for the first time, I listened to the preacher heard the gospel.   I realized that if I were to die right then I would go to hell.  My daddy's money would not get me to heaven.  Before the invitation was given, I was trembling and in tears.  As soon as the invitation was given, I went forward and asked the Lord to save me.
Several years later, I fell out of church.  When my wife and I were expecting our second child, I realized that we needed to get serious about the Lord and raise our two children in church.  I had fallen into the same rut that my dad had fallen into. I thought that work was more important than attending church.  I worked as a foreign auto mechanic and was making pretty good money.  My boss would allow me to work even on Sundays.  A friend of ours from High School married a preacher and they were starting a church near where we lived.  They called us and invited us to come.  We had searched for a church to attend nearby but had never found anything that appealed to us.  We went and God really spoke to our hearts.  I realized that if I didn't follow God's calling on my life, my children might never get saved.  I had felt the call to preach years before right after I had gotten saved.  I even attended Howard Payne University for a semester but dropped out turning my back on the Lord.  The Lord used this little church and this pastor to bring us back to church and turn our lives back towards Him.
After learning about soul winning, my heart was burdened for my dad.  I wanted to call him one Sunday night around 9:30 to see if he was saved.  My wife thought it best to wait until morning because he had to get up at 4:30 the next morning to head to his job.  My dad had a short fuse and waking him up was one thing that got him pretty angry.  I couldn't fall asleep as the Holy Spirit was really dealing with my heart about my dad.  I called him anyway and when he answered the phone, I could tell he was pretty upset.  I didn't know how to ask him other than blurting out the question that if he were to die tonight, was he sure he would go to heaven.  His reply was that he hoped so.  I told him that hoping so would not get him to heaven and that he had to know for sure.  He then with tears in his voice replied that he accepted Christ as a young boy.  He then told me that if he could, he would give back all the money that he had earned and raise his family in church.  He said that he was sorry for the way that he had raised us.  I asked him if he would come to church with us the next Sunday.  He said that he would be there.  The following Saturday night I called him to make sure that he was still coming to church.  He wasn't feeling well and had indigestion but said said that he would be there.  At 5 am the next morning our phone rang.  It was my mother telling me to get there quick because Dad had just had a heart attack.  I rushed to get dressed,  called the hospital and the nurse told me not to rush, Dad was already gone.  I had perfect peace that he was in heaven and that one day I would see him again.  I am glad that I obeyed the Lord and made sure of his salvation.
After my dad went to be with the Lord, my family and I moved to Oklahoma to attend Bible college.  While there, God burdened our hearts about missions.  We surrendered to go to the mission field and God burdened us about Haiti.  After we had been in Haiti for three months, our daughter Katelyn got severely ill with Type 1 diabetes.  We then moved to the other side of the island known as the country of the Dominican Republic.  It was there that we were able to get the medical attention and the proper diet for our daughter.   God used us there to start several churches, help with three other established churches as  well as help with several other ministries.  After serving nearly 14 years, the Lord has called us back to the United States to start spanish speaking churches.  I am grateful that I obeyed the Lord and am truly blessed to be able to serve Him.