COIN IN THE BOTTLE!
If you were to put a coin into an empty bottle and then insert a
cork into the neck, how could you remove the coin without
taking out the cork or breaking the bottle?

(Scroll down for answer.)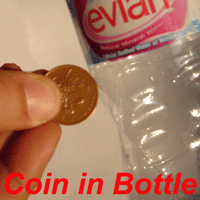 The answer is…
>
>
>
>
Simply push the cork into the bottle and shake the coin out.